No matter the kind of straw finial you're looking for, our thatching artisans will be able to craft it for you. These roof ornaments act as the finishing touch on top of your thatched roof, and they're eye catching too. From dogs and cats to pheasants, all will be expertly crafted by our master thatchers.
We'll craft any straw finial you could think of
Thatch finials are both a demonstration of a thatcher's abilities as well as a way for our clients to express individuality. While traditionally made from a combination of stalks, ash and hazel, in modern times, they tend to be made from straw woven into and through chicken-wire. This adds extra structure to the straw finial and ensures a long lasting structure. This method is similar to the way in which the actual roof itself is thatched, ensuring that your roof is secure all over.
Straw animal finials are the perfect way to express your individuality on top of your roof for all to see. If you have a specific idea in mind, get in touch with us and we'll give you a quote. Alternatively, you can view our past work below and get some inspiration.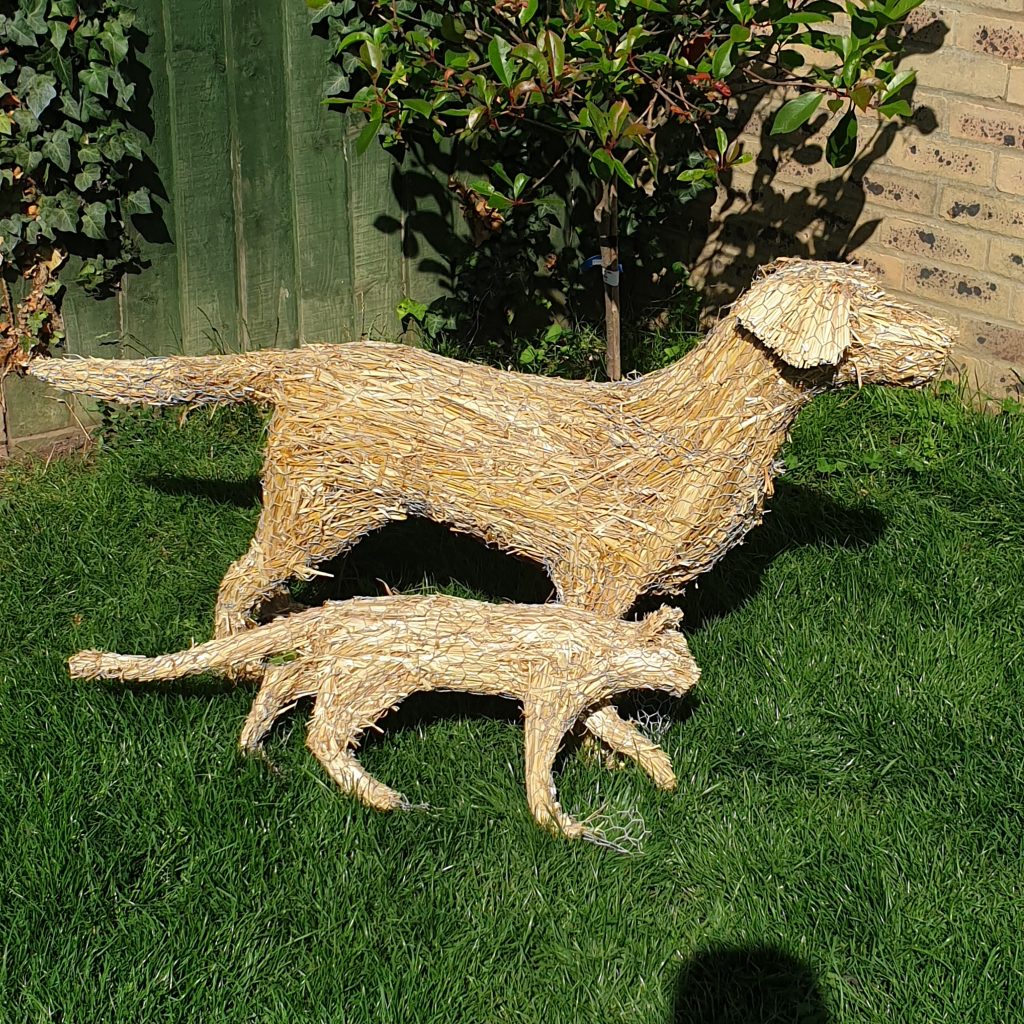 Get in touch to discuss your thatching needs
Employ Simply Thatch to enhance your thatched roof. We're a family-run business of skilled craftsmen, thatchers, carpenters and builders using modern techniques to ensure your thatched roof is as robust as possible – without sacrificing the intricate details that makes your building unique.
The life span of your thatched roof can be extended tenfold if it receives proper maintenance from experienced thatchers. Small repairs to the thatch such as cleaning and re-ridging will significantly improve the condition of your roof. Keep a regular eye on the state of your thatch and give us a call if you need advice from us. No matter what your roof is made of, Simply Thatch Master Thatchers are here to help.
If you have an idea for a straw finial for your roof, simply give us a call and we'll let you know if we can make it for you. We review every roof individually and provide tailored advice on how to maintain the structure and intricate details, which will make it last for a long time. Get in touch with Simply Thatch, master thatchers, on 07903824878 for a quotation or expert advice.
Get Your Expert Quotation Today !
Our Experts are always on hand to advise and provide quotations.
For some, straw animal finals are the crowning glory of a roof, and a chance to show off your uniqueness and creativity. Restorations and repairs on thatched roofs are a worthwhile investment. Although the initial thatching may be expensive, a well-thatched roof offers long term savings by providing insulation and ventilation for years at time.
This is why it is crucial to choose knowledgeable thatchers with proven expertise. Our skilled team have the experience to provide thatches of the only the very best quality. Get in touch for a quote today.