Thatched Roof Maintenance
At Simply Thatch, we offer thatched roof maintenance services using reed and straw. The lifespan of your roof, and therefore your thatch roof maintenance requirements, is dependent on a number of factors. No matter how well thatched a roof is, it will always require thatch roof maintenance over a period of time. Because thatched roofs naturally degrade over time, a complete re-thatching is recommended every 20 years or so.
Thatch roof maintenance is essential. Your thatched roof may not require a full rethatch, but instead, require maintenance such as a ridge and repair, moss removal, repairs for damage caused by vermin, repairs to eave lines caught by vehicles (to name a few).  We offer complete reed roof and straw roof thatching as part of our thatch roof maintenance services.
Advice for thatch roof maintenance
To ensure that your thatched roof lasts as long as possible, we recommend re-ridging your roof every 10-15 years depending on angles.
Consider the following tips for your thatch roof maintenance:
Keeping your roof in the best condition possible means ensuring that it is well ventilated. If your roof is able to dry out properly after rainfall, it will prevent the likelihood of moss and algae growth.
Do not assume that a neat ridge is a sign of a well-thatched roof. This could just indicate that a previous owner had the roof re-ridged recently. Instead, examine the eave. Discolouration or dips in the main coat-work can indicate more deep-rooted damage.
If you are having other work done on your property, do not allow traders to damage the thatch with ladders, tools, or walking on the coat-work. Divots accelerate thatch degradation and should be avoided.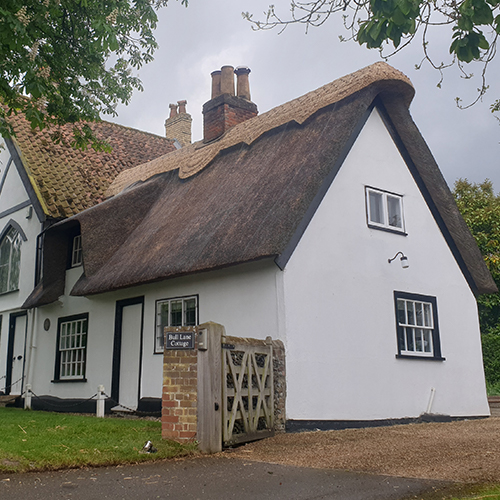 Get in touch to find out more about thatch roof maintenance services.
Get Your Expert Quotation Today !
Our Experts are always on hand to advise and provide quotations.
Restorations and repairs on thatched roofs are a worthwhile investment. Although the initial thatching may be expensive, a well-thatched roof offers long term savings by providing insulation and ventilation for years at time.
This is why it is crucial to choose knowledgeable thatchers with proven expertise. Our skilled team have the experience to provide thatches of the only the very best quality. Get in touch for a quote today.