We offer expert thatched roof re-ridging services for roofs made with reed and straw. The lifespan of your roof will depend on how well maintained it is. No matter how well thatched a roof is, it will always require thatch roof maintenance over a period of time as it is one of the most important areas to maintain on your roof. The ridge is located on the top of your roof so it will be subject to all types of weather and will therefore need replacing every few years.
Ridge repair is essential to keep your roof in tip top condition and it is recommended that you get a new ridge every 10 years or so. It's important that you're aware of the signs that you need ridge repair – you should look for:
Loose/uneven ridge pattern
A raised ridge
Moss build-up by the ridge
Rotting thatch
Discolouration by the ridge
Loose wiring
If your roof has any of the above, it's worth giving us a call to avoid further, more costly damage to your roof. We'll carry your thatched roof re-ridges by firstly tidying up the existing thatch around the top of the roof. The ridge's design is totally up to you – we can either replicate the design or create a totally new one. The choice is yours. We will follow with standard thatched roof re-ridging procedures including removing old wire, knocking off old thatch and dressing with new thatch.
Maintaining your thatched roof ridge – advice
While we recommend arranging roof ridge repair every decade, there are a few things you can be doing to prolong its lifespan:
Ensure that your roof it is well ventilated. If your roof is able to dry out properly after rainfall, it will prevent the likelihood of moss and algae growth under the ridge.
If you are having other work done on your property, do not allow traders to damage the thatch with ladders, tools, or walking on the coat-work. Divots accelerate thatch degradation and should be avoided.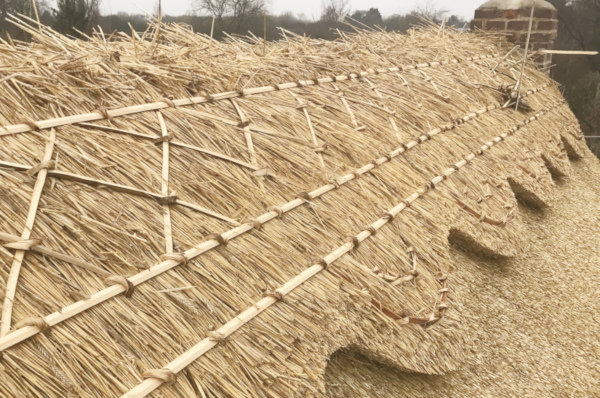 Why choose us for your roof ridge repair?
We're a team of skilled craftsmen, thatchers, carpenters and builders using modern techniques to ensure your thatched roof is as robust as possible -without sacrificing the historical details that makes your building unique.
We review the design of every roof individually and provide tailored advice to restore the original elements of the building. We also offer counsel on thatch maintenance and how to make your roof last as long as possible. Get in touch with Simply Thatch, master thatchers, on 07903824878 for a quotation or expert advice.
Get Your Expert Quotation Today !
Our Experts are always on hand to advise and provide quotations.
Restorations and repairs on thatched roofs are a worthwhile investment. Although the initial thatching may be expensive, a well-thatched roof offers long term savings by providing insulation and ventilation for years at time.
This is why it is crucial to choose knowledgeable thatchers with proven expertise. Our skilled team have the experience to provide thatches of the only the very best quality. Get in touch for a quote today.