Here at Simply Thatch, we offer thatch moss removal services all over the country. Although we're based in Cambridgeshire, we're willing to travel all across the UK to help you remove moss from your thatched roof. What's more, we service any type of property with a thatched roof; no matter whether you own a small building, large building, or whether you require our historic building restoration services.
What causes moss to grow on your roof?
Moss and Lichen tend to flourish on roofs in in damp environments, and with Britain's notorious wet and rainy weather, moss growth is often inevitable. Long periods of damp weather encourage the growth of moss and lichen on a thatched roof.
De-mossing is a vital step in maintaining your thatched roof, as leaving it for a prolonged amount of time will allow it to continue spreading and will eventually affect the functioning and the durability of the roof. Most people would try to remove the moss themselves by manually scraping it off, however, doing so will remove the thatch underneath and cause further damage to their roof. For this reason, we fully recommend our thatch moss removal services to fix your roof, as incorrect procedure will decrease the life span of your roof.
Simply Thatch will fully inspect your roof so that we can pinpoint the locations where the moss grows fastest and we can even help you prevent the spread in the future. As master thatchers, we are able to identify the areas that need cleaning as well as the causation for the growth. Book thatch moss removal today!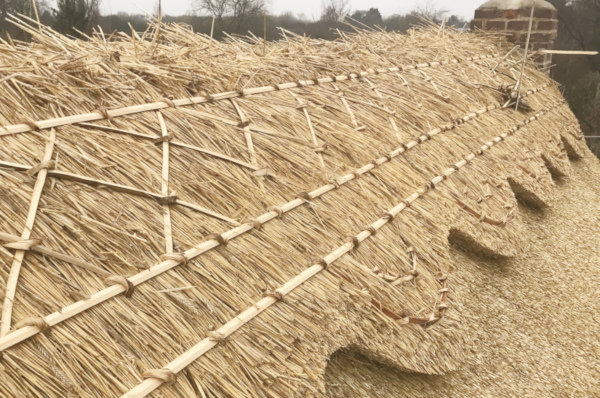 Get in touch to discuss your thatch roof maintenance needs
We're a team of skilled craftsmen, thatchers, carpenters and builders using modern techniques to ensure your thatched roof is as robust as possible -without sacrificing the historical details that makes your building unique.
Thatched roofs naturally degrade over time; however, the life span of your roof can be extended with proper care and maintenance. This will involve small repairs to the thatch, cleaning and re-ridging. Keep a regular eye on the condition of your thatch and contact us if you need advice. Whether you have a reed or straw roof, Simply Thatch Master Thatchers are here to help.
We review the design of every roof individually and provide tailored advice to restore the original elements of the building and make your roof last as long as possible. Get in touch with Simply Thatch, master thatchers, on 07903824878 for a quotation or expert advice.
Get Your Expert Quotation Today !
Our Experts are always on hand to advise and provide quotations.
Restorations and repairs on thatched roofs are a worthwhile investment. Although the initial thatching may be expensive, a well-thatched roof offers long term savings by providing insulation and ventilation for years at time.
This is why it is crucial to choose knowledgeable thatchers with proven expertise to help you with thatch moss removal. Our skilled team have the experience to provide thatches of the only the very best quality. Get in touch for a quote today.