Thatching Services in Cambridgeshire
Welcome to Simply Thatch Ltd, a collection of roof thatchers offering a plethora of thatching services in Cambridgeshire. We're a family-run company specialising in reed and straw roof rethatches and thatch roof maintenance.
We have almost 2 decades of experience in the thatching industry, so you can always expect a first class service from us. We'll offer you the full range, from recommendations and advice, to patching, repairs, new ridges, extensive restorations even complete thatches. We will expertly restore or extend any building in Cambridgeshire, as well as skilfully create a stunning thatched roof which will stand the test of time. Get in touch to learn more about our reed roofs, straw roofs or thatch roof finials.
Restoring and building thatched roofs and thatched houses in Cambridgeshire for 2 decades.
Simply Thatch are well known in Cambridgeshire for create stunning thatched roofs as well as expertly restoring or extending any thatched house or building. We can do anything under the scope of thatching, such as thatch restorations, re-thatches, repairs, fire proofing and more for buildings across the UK.
We service thatched roofs in Cambridgeshire and beyond
We're a family run company, made up of several generations of roof thatchers in Cambridgeshire and beyond. We provide first class thatching services to thatched roofs across Cambridgeshire and counties throughout the South East. Our combined expertise and experience means that you can expect a first-class service with unparalleled insight.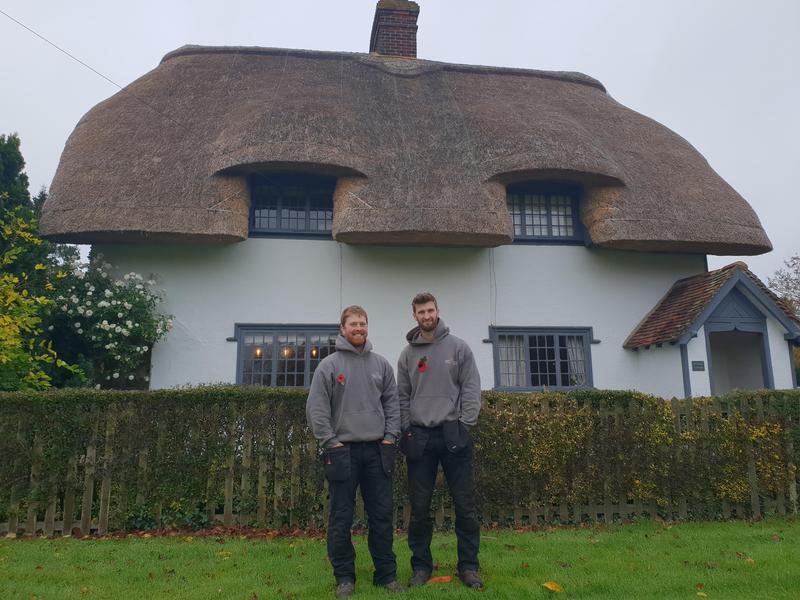 Cambridgeshire Thatching Services
Why choose Simply Thatch Ltd?
Looking for a roof thatching services in Cambridgeshire? Look no further than Simply Thatch Ltd. We're a family-run team of master thatchers with decades of experience in the thatching business. We use our masterful craftsmanship to offer a high calibre service. What's more, you can rely on us to be friendly and dependable, and we'll help you with any queries you may have. Our expertise, insight and skill ensures that we'll repair or restore your thatched roof to the highest possible standard. So, get in touch and we'll give you a quote.
Get Your Expert Quotation Today !
Our Experts are always on hand to advise and provide quotations.
Restorations and repairs on thatched roofs are a worthwhile investment. Although the initial thatching may be expensive, a well-thatched roof offers long term savings by providing insulation and ventilation for years at time.
This is why it is crucial to choose knowledgeable roof thatchers in Cambridgeshire with proven expertise. Our skilled team have the experience to provide thatches of the only the very best quality. Get in touch for a quote today.