Here at Simply Thatch Ltd we take great pride in our work. From the first time we come out to see your thatched property, we begin thinking about everything to do with your thatched roof. Things like the type of material used to thatch the roof, the style of ridge. But most importantly we speak with you as the customer.
One of the great things about a thatched roof is the opportunity to add your own unique taste to your roof. Maybe you have a ridge design you would like or you might want to add a straw finial to the roof. Here at Simply Thatch Ltd we will look to accommodate those ideas.
We knew from when we first saw The Old Granary we wanted it to be apart of our portfolio.
We met with the customer on site to measure up and discuss what he wanted to achieve from his thatched roof.
The customer said he had spoken with a number of different thatching companies but said that Simply Thatch seemed to understand what he wanted from his roof.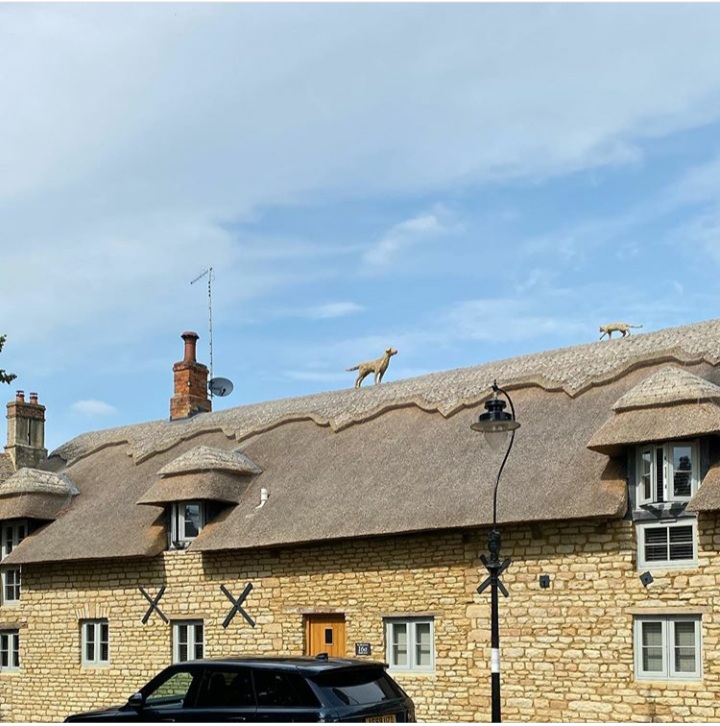 The Old Granary was thatched in water reed originally but was due a complete re-thatch. Since water reed is completely removed before being re-thatched, it was the perfect opportunity to add a fire barrier in the form of a fire membrane. After we install a full fire membrane wrap on the roof timbers we begun the thatching using a Premium water reed we thatched the roof to a thickness of 14inches.
We then set our sights on the straw ridge. We spoke with the customer at length over his ridge design to make sure we got it just right. We went with an extra deel ridge design to showcase as much detail as possible. Using a straw called red standard which grows much longer than other varieties of straw. This allowed us to put much more Hazel crosswork in making the ridge incredibly tight and impressive. Lastly the customer asked for two straw finials of a Labrador and a cat, his sons favourite pets. A nice touch.