How to reduce fire risk in properties with thatched roofs
A key element of making sure that your thatched roof stays in prime condition for as long as possible is to minimise risks to your thatched roof – including fire risks. While fires in thatched roofs are very uncommon, once a thatched roof catches fire, it is susceptible to a high level of damage. Fortunately, our helpful guide to thatch fire prevention outlines how to eliminate thatch fire risk.
>>> What causes fire in thatched roofs?
The main causes of thatch fire, according to research from Historic England and NFU Mutual, are:
Stray sparks, such as those from chimneys, cigarettes, fireworks and bonfires
Electrical faults in the home
Natural conditions, such as lightning interfering with television aerials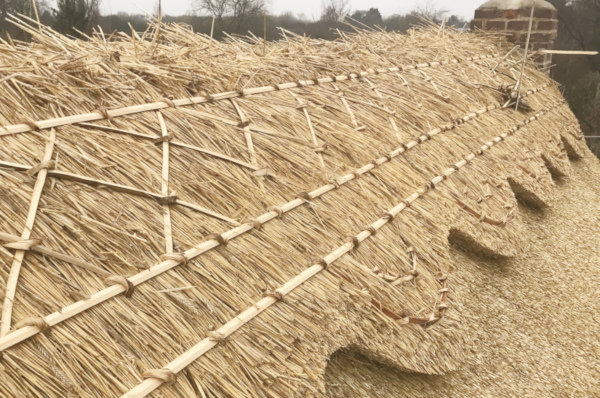 >>> How long does a thatched roof last?
As with the cost of a thatched roof, the lifespan of a thatched roof can depend on a variety of factors. On average, a thatched roof will last between 25 and 40 years. While size and materials affect the lifespan of thatched roof, excellent craftsmanship is key. That's why should use a master thatcher with proven experience. As Simply Thatch, our 17 years' experience enables us to ensure thatched roofs and repairs last as long as possible.
Frequently sweep chimneys to remove tar and soot
Because of the danger that chimney fires pose to thatched properties, it is crucial for thatch fire prevention to frequently sweep chimneys. A build up of tar and soot can lead to chimney fires that can spread to your thatched roof in a number of ways. How often you need to sweep your chimney depends on factors such as the fuel you in a fireplace or wood-burning stove.
Make sure that there is a sufficient gap between your chimney and your thatch
It is normal for chimneys to emit sparks and embers when a fireplace or stove is in use, but these sparks are usually low energy and burn out quickly. To ensure that a stray spark never kindles a fire on your thatched roof, there must be enough of a gap between your chimney and roof. Buildings Regulations Approved Document J gives advice on sufficient gaps between chimney tops and thatched roofs to reduce thatch fire risk.
Prevent birds building nests in your chimneys
Birds building nests in chimneys can create a substantial fire risk. Sparks and embers travelling up the chimney will have less distance to travel before kindling a fire if a bird builds a nest in a chimney. Sweeping can help reduce this risk, but the most effective way to prevent birds building nests in your chimney is to fit metal bird guards.
Insulate the chimney flue
To prevent chimney heat from transferring to the thatch layer, it is important to insulate the chimney flue. This is particularly pertinent if you use solid fuel or wood burners, since they can reach much higher temperatures – 300°C to 600°C – than traditional fireplaces. Any cracks or open joints in your chimney can lead to this heat spreading to your thatched roof, and a suitable layer of insulation will prevent this.
If you want further advice on thatch fire prevention, our team will be more than happy to offer counsel. Get in touch to learn about our thatched roof maintenance services.
Get Your Expert Quotation Today !
Our Experts are always on hand to advise and provide quotations.
Restorations and repairs on thatched roofs are a worthwhile investment. Although the initial thatching may be expensive, a well-thatched roof offers long term savings by providing insulation and ventilation for years at time.
This is why it is crucial to choose knowledgeable thatchers with proven expertise. Our skilled team have the experience to provide thatches of the only the very best quality. Get in touch for a quote today.