Case Study – Unicorn Cottage
We received an email asking for Simply Thatch Ltd to come out and have a look at a thatched roof to provide a quote. The email stated that another thatcher who can't be named due to legal reason had carried out some work over a number of months but the work was of very poor quality. Once the customer confronted the "thatcher/cowboy" he left site and didn't return again – even leaving his ladders behind. But he had been paid £10,000 upfront by the customer.
We visited the property, Unicorn Cottage, and saw just how bad it had been left. It was thatched in patches across the roof but the straw used was very poor quality and very short. Not suitable for thatching a roof at all. Because the roof had been left not watertight the straw had begun to rot and needed to be completely removed.
We spoke with our new customer and set out a plan of action to get the thatched roof replaced. The cottage needed to be thatched in long straw with a flush ridge.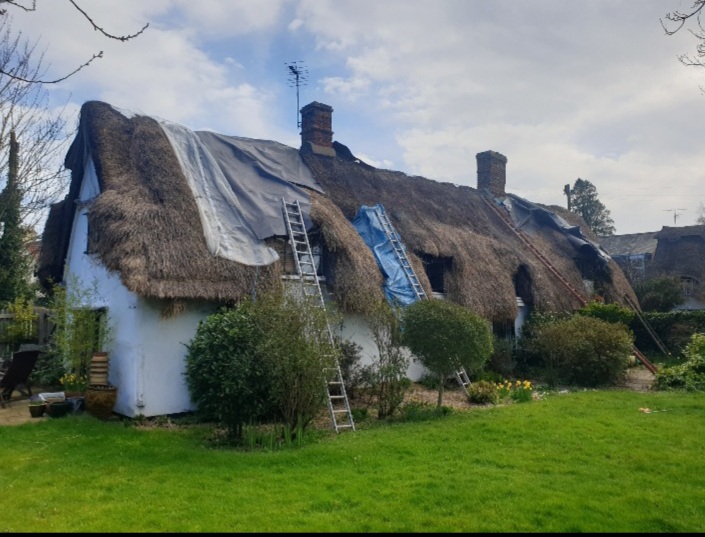 There isn't a governing body for the thatching industry. A thatched roof can be very expensive so you need to do your research into the thatcher/company. We recommend you get a number of quotes, once you have your quotes ask the thatching companies for names, contact details and addresses of previous work/customer. It doesn't take long to make a call or take a drive out to a property. It could save you a lot of time and money.
If we can't fit you into our calendar Simply Thatch Ltd are happy to advise you on all thatch enquiries. Give us a call today.
Get Your Expert Quotation Today !
Our Experts are always on hand to advise and provide quotations.
Restorations and repairs on thatched roofs are a worthwhile investment. Although the initial thatching may be expensive, a well-thatched roof offers long term savings by providing insulation and ventilation for years at time.
This is why it is crucial to choose knowledgeable thatchers with proven expertise. Our skilled team have the experience to provide thatches of the only the very best quality. Get in touch for a quote today.